History of Sadorus
Sadorus, Illinois, has a Board of Trustee form of government. Village Trustees are elected at-large, as is the President of the Board of Trustees, popularly known as the Mayor. Village Clerk, Village Treasurer and Zoning Administrator are appointed positions.
Sadorus, Illinois has a rich and colorful history. In April 1824, Henry Sadorus settled in Sadorus Grove on the Kaskaskia River. He was the first permanent white settler in Champaign County, Illinois. In 1835 he built one of the first frame houses in Champaign county, hauling the the lumber from Covington, Indiana.
In 1837, Henry Sadorus' son, William, platted out the town of Sadorus. He deeded the right of way to the Great Western Railroad and donated lots for a city jail, churches, and a school. The remaining lots were sold for $10/each.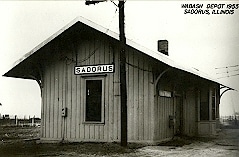 The former Sadorus Wabash Depot in 1955
The Great Western Railroad finally put through in 1857. It became the Wabash Railroad in 1889, and is now part of the main line of the Norfolk Southern, with 30 or more trains per day.
Agriculture is still the main occupation in Sadorus, starting with Henry Sadorus. A barn-raising for his family in 1832 was a major social event for the county. Grain elevators still dominate the town.
The 1893 plat of Sadorus shows the railroad depot, two grain elevators and a store on Market Street (main street), three churches, a Baptist Church on the corner of South and Vine, a Lutheran church on Front Street, and a Methodist church on West and Church Streets. The Sadorus United Methodist Church still stands on its original site.
In the 1913 Champaign County Atlas, advertisements from Sadorus businesses include Holl Brothers General Merchandise, Sadorus Lumber Company, C.A. Kelly Hardware, and Price-Evans, home furnishings and funeral services.
In 1929 the Farmers First State Bank listed capital and surplus of $32,000. Illinois Garage, A.J. Bialeschki, proprietor, who serviced Buicks, Chevrolets, sold Shell gasoline and Firestone tires. General Merchandise was sold by F.J. Holl and Sons.
Central Illinois is known for its dramatic weather to which Sadorus can attest. On April 22, 1963, a tornado hit the town and destroyed the sanctuary of the century-old Sadorus Methodist Church. Another devastating tornado ripped through the community in 1976, destroying many homes, barns, and buildings.
Abraham Lincoln Defends Sadorus Resident in Murder Trial
In 1857, Thomas Patterson and his family moved to Sadorus, Illinois, from Vermilion County, Illinois, to open a store. Being a "newcomer" to town, he was not very well liked. The following year, Samuel DeHaven, owner of a 160-acre farm near Sadorus, entered the store to buy a hatchet. DeHaven was popular in town, even through he was a bad-tempered drunk. Patterson refused to sell DeHaven anything more on credit until his bill was paid. DeHaven, drunk, threatened Patterson with a spade, and Patterson defended himself by throwing a scale weight at DeHaven's head. DeHaven died of his head injuries a few hours later. Patterson was charged with murder. He retained Abraham Lincoln and Leonard Swett as his attorneys.
The trial was finally held in April 1859, in Urbana, the county seat of Champaign County, Illinois. It was delayed for two reasons: 1) Lincoln's involvement in the now-famous 1858 Lincoln-Douglas debates with Senator Stephen A. Douglas, his opponent in the US senatorial election which Lincoln lost and 2) the intense feeling aroused by the murder of DeHaven.
View Photos in the Gallery
The trial proved entertaining with over a dozen witnesses for the defense. The record shows that a Judge Davis presided over the trial which saw 14 witnesses for the prosecution, countered by nine witnesses for the defense to defend the plea of self-defense. Store owner Thomas Patterson was found guilty of manslaughter and sentenced to three years in the new penitentiary in Joliet.
After Patterson had served one year in prison, a petition drive to get him pardoned was circulated in Champaign and Vermilion counties, which produced over 1,350 signatures. Judge Davis, along with Abraham Lincoln, now a presidential nominee, attached statements in favor of a pardon, and in August 1860, the governor of Illinois pardoned Patterson.
3rd Wed of every month
6:30 PM
Open to the public
SADORUS VILLAGE HALL
115 East Market Street
Sadorus, Illinois 61872